Fundraisers are crucial at Up with Downs. We have 4 annual fundraisers: a Car Boot sale, Golf day, Cycle tour and our Christmas night market. During the year we also try to do smaller fundraisers because without the extra funds our centre will not be able to function.
WALKING FOR HOPE (see regular updates from Elsa below)
Being an NGO, Up with Downs receives no government subsidy and school fees are insufficient to cover our operating costs. It is due to the hard work of the staff and our families who organise fundraisers throughout the year, and the generous sponsorships and donations from the general public that Up with Downs can continue to make a daily difference in the lives of these special young people.
One of our learners' resourceful and energetic grandmother has offered to raise funds for our centre whilst walking the Pilgrimage of Hope (Uniondale to Cape St Blaise Lighthouse, Mossel Bay). She will be walking 20-25km each day, 9-23 May 2022.
In the words of granny Elsa, here is why she is doing it: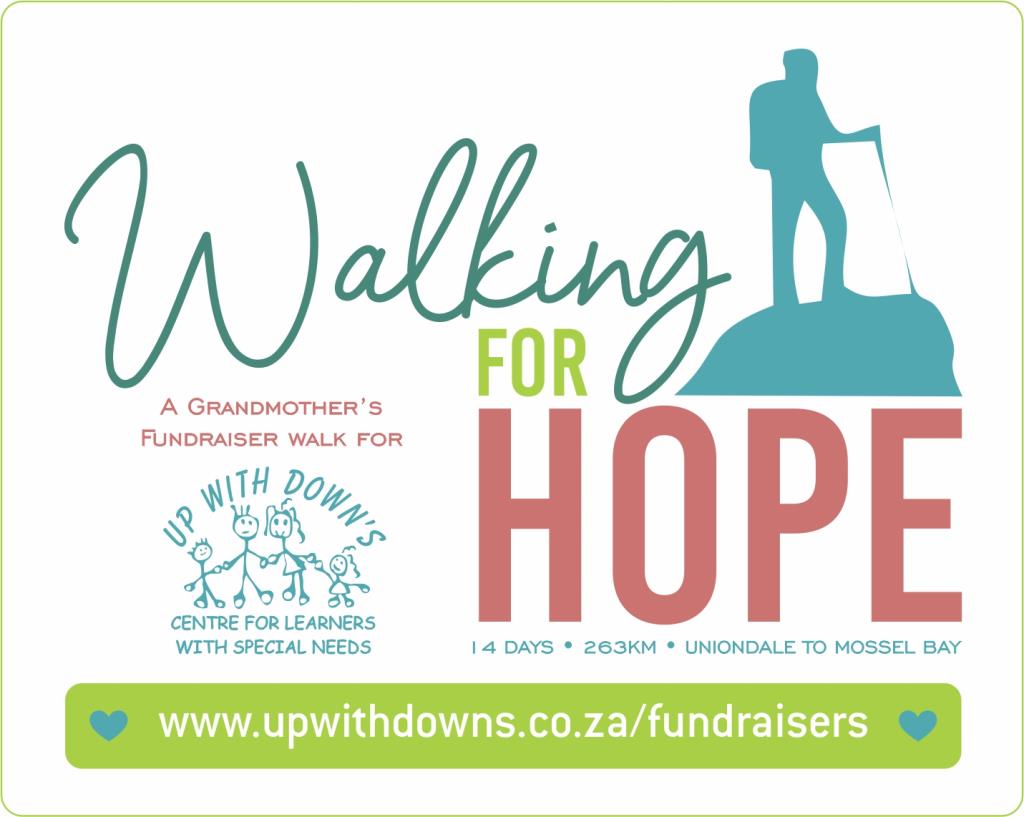 WALKING WITH A PURPOSE FOR SPECIAL NEEDS CHILDREN                 
…why walking…
Over eons people across the globe have walked for many reasons: in search of food, to worship, today we witness millions of refugees walking in search of shelter and safety.
I have, along with a friend Hazel Jonker, walked thousands of kilometers finding the silence, solitude and adventure intertwined with it all being a time of reconnection with life and the simplicity encapsulated therein. 
To me it is quite meditative.             
To me these long journeys represent so much of what special needs children and adults experience everyday, the uncertainty of what the day will hold so we tackle it one step at a time. Have you ever stopped and thought what tenacity or courage it takes for these children and adults to do just that: take one step at a time? To show up each day in a world where often they face judgement for choosing to do life differently?
And so I walk inspired by the fact that no matter how difficult the terrain, one just needs to show up one foot step, one smile at a time to reach the end goal and celebrate the awesomeness – our differences.
If you would like to support Elsa on her journey and donate towards her cause, the banking details are as follow:
Up with Downs school
ABSA bank George
Account number – 405 090 1991
Please use Elsa'sWalk as your reference when you make a donation.
CLICK HERE to donate money towards Elsa's Walk For Hope via our electronic donation system.
REGULAR WALK UPDATES FROM ELSA: